Gugolz Optical Lapping Pitch
Meller Optics, Inc., formerly Adolf Meller Co., has specialized in fabricating Quality Optical and Laser Materials for UV and IR applications for over 55 years.
From our work we recognized the need for a lapping pitch of absolute purity and consistency. We studied them all, then selected the Gugolz Pitch from Switzerland! It has proven to be – unequivocally – the best.
We offer it exclusively in America!
Gugolz Optical Lapping Pitch is recognized worldwide as the best, better than any contemporary alternative compound!
There is no detectable variation between batches. This is the result of continuous product refinement by the Swiss manufacturer that eliminates the need for screening or filtering by the end user.
Because Gugolz Pitch is an all-natural product made from wood resin (it is not a petroleum by-product), there is no risk of contamination of the polishing media or the product being polished.
Having 5 hardness grades to choose from eliminates the guesswork of mixing additives to fonn a particular grade.
However, all grades are completely compatible so they can be mixed to any intermediate degree of hardness to suit any requirement from Very Soft to Very Hard.
Gugolz optical lapping pitch comes in 1 or 5 kg containers. This chait outlines the characteristics of the five grades.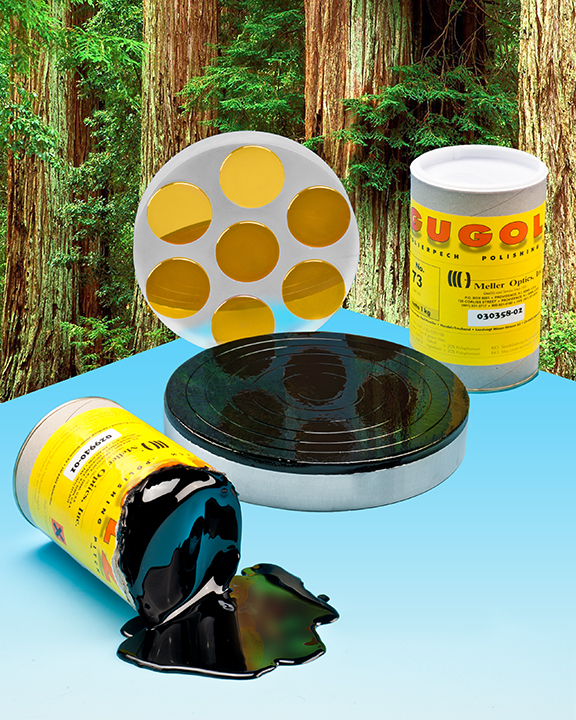 Don't see what you're looking for? Call Meller Optics for your custom optic needs!