Sapphire Waveplates
Sapphire waveplates are a unique alternative to crystalline quartz for rugged visible and JR polariza­tion control components. Sapphire is a tough bire­fringent crystalline material that has useful transmis­sion from .25 to 4.7 microns. Sapphire transmission is > 98% in this wavelength region with AR coatings on two sides. It is intrinsically hard (Moh 9) and readily withstands harsh chemical environments. Sapphire waveplates are offered in half wave and quarter wave in both multiple and zero order con­figurations. Because sapphire can be made thinner than its counterpart in quartz, lower order wave­plates can be manufactured; thereby reducing the errors inherent in higher order plates. Meller Sapphire waveplates are ideal for use in high power IR and Visible lasers where applications may include:
Creation of circular polarization from linear or linear polarization from circular
Reflection suppression when used with a polarizer
Optical pumping and ellipsometry.
Rotation of the plane of polarization in a laser
Electro-optics modulation
Variable ratio beam splitter when used with a polarizing cube
Dual wavelength designs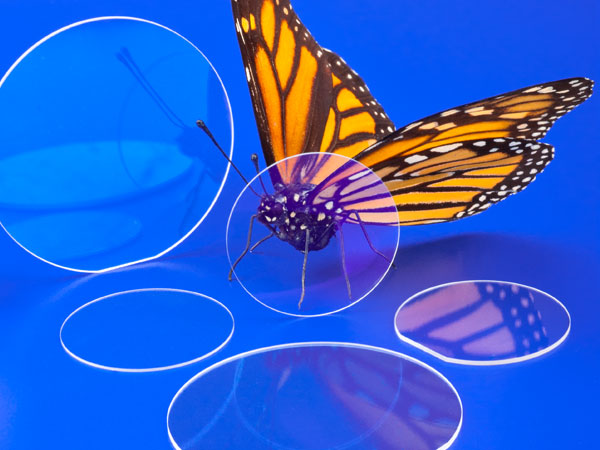 Material – Laser Grade single crystal sapphire
Transmitted Wavefront – A1'10 at 632.8nm
Surface Quality – 10-5 scratch-dig per MIL-0-13830A
Diameter Tolerance – +0.000″, -0.01 O"
Parallelism – < or = 1.0 arc seconds
Clear Aperture – Central 85% of the diameter
Retardation – A/4 and A1'2
Retardation Tolerance – Dependent on Wavelength
.632µ – > A1'300
2.94µ – > A1'1000
Optic Axis – Normal to flat (or dot) on diameter. Plates will be either "a" or "m" plane. AR Coatings – "V" coatings and broadband AR coatings available upon request
Don't see what you're looking for? Call Meller Optics for your custom optic needs!